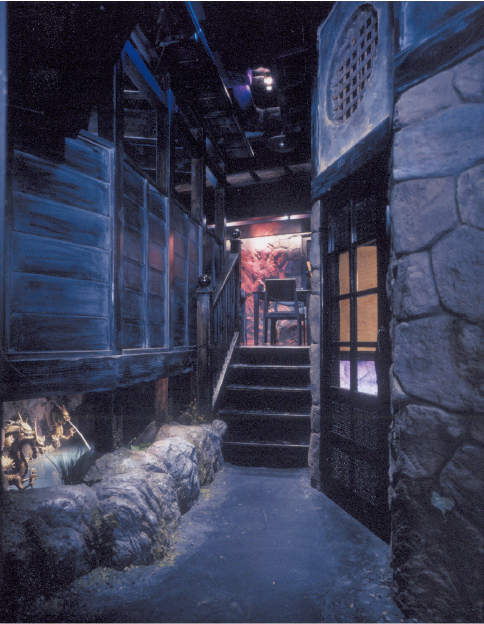 In Sengoku period (the 16th century), Shinobi group whose abilities are highly approved by Daimyo played a major role as spy, assassin, and special forces in the shadow of a history. With the end of Sengoku period, Shinobi group were scattered all over the country to make use their high abilities to a new era.
In 1603, with the open of Edo Shogunate, Tokugawa took along Shinobi group to Edo and called them as"Miyako Ninja"."Miyako Ninja" built the secret village near Hanzo-mon that was preserved by famous ninja Hanzo Hattori. They are now providing secret of hospitality to the VIPs from all around the world. That village is called as "NINJA AKASAKA".
In 1602, "Miyako Ninja" protected Ieyasu Tokugawa as gun squad during his moving to Edo. That place is called as "Hyaku-nin cho" today. They built the house beside Koshu Kaido near Hyaku-nin cho, Shinjuku, and protected the security of Edo entrance. That house is called as "NINA SHINJUKU".
In the peace and tranquil Edo period, "Miyako Ninja" were highly approved of their abilities, they worked for Tokugawa. Among them, "Jokyu-Ninja" who can manipulate the witchcraft used their special abilities to entertain Daimyo. The place where they are hiding is called as "AJITO"
In 1800, Edo Shogunate secretly made some members of "Miyako Ninja" cross the sea to the United States. They explored the country from west to east, and when arrived at east, they built hidden village under the small island. That is Manhattan today, and that village is called as "NINJA NEW YORK".
500 years have passed since Sengoku period, Shinobi group scattered all over the place is now training and working quietly with the mission of protecting peaceful and tranquil world.